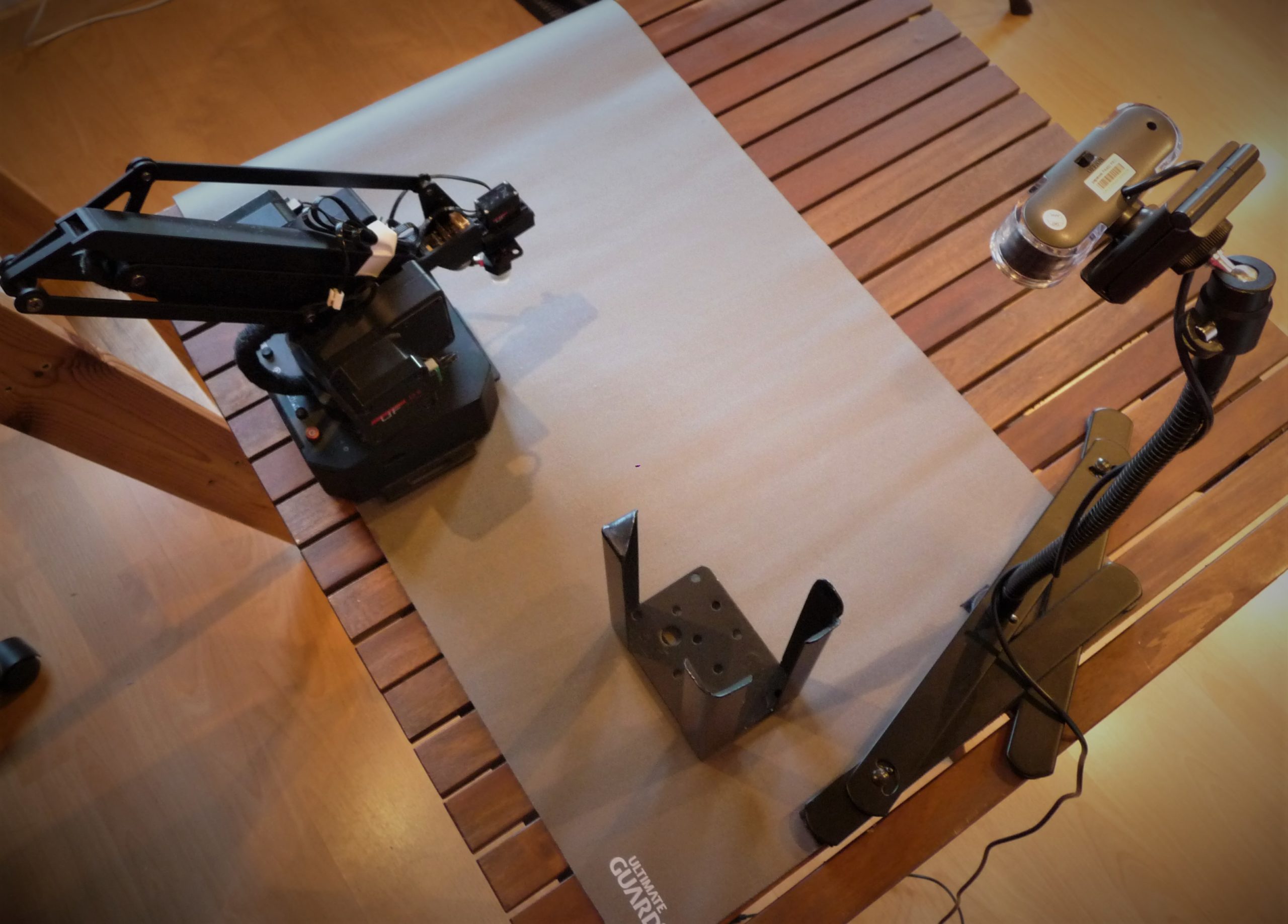 The Robot card sorter project started in Januray 2018. During my stay in Paris for my robotics studies, I met Yoann Buzenet who worked for the biggest Magic card retailer shop  in Europe called "Magic Bazar". Every friday after the Legacy tournament, we were chating about robotics and artificial intelligence. One evening Yoann  said :
Do you think it is possible to build a robot capable to list Magic cards ? Because it does not exist yet !
The idea sounded great !
So we decided  that he would provide all the material and resources necessary to develop the program, with the opportunity to test the robot at "Magic Bazar".
The project "Robot Card Sorter" was born ! 
As you can see, I did not build a machine just able to list cards. We preferred to buy a robot arm because it can be used for another type of task. The product is made of 4 main parts :
The robot Uarm Swift Pro
The cards slot (homemade by my dad !)
The camera for cards recognition
The soaftware to control the robot
The robot works as followed :
The user has to pre-sort all cards according to its grading and its language
Then, he puts all the cards into the card slot
He starts the robot with the software
The robot can recognize the card edition but sometimes it can make mistakes. Thanks to the program, the user can check and make any possible amendment.
Usually, you need one day to list 1000 cards. With the robot you can sort 2000 cards ! And you can make other task while the robot is running.
Here is my last tutorial video, just for fun ! 
It took me 1 year to develop this program (Cards recognition, All the prod server, License Checker, Manager-board).
The results were so conclusive that we wondered Yoann and I why not creating our own business.
So, in september 2018, I started a student program to help me in my new project. 
Student Entrepreneur
In parallel with Master degree in computer science, I started up my business with Yoann and developed the program.
During March 2018, we deployed the robot at Magic Bazar. 
But in May, for several reasons, the project had to stop suddenly.
So we decided to get back on track :  Yoann learning coding and me finishing my Master degree and doing a PHD. 
The future will tell us if we take it back. Maybe we will make it Open Source !
To be continued…